Hannibal Barca: Purpose Determines Destiny
Posted by Orrin Woodward on November 14, 2012
I have been working on a couple research projects for future books when Hannibal's story struck me so much that I decided to share it with my readers. In my book RESOLVED: 13 Resolutions for LIFE, the first resolution in on the subject of purpose, namely, because one's purpose determines one's destiny. As I reflect on my life, every decision has followed naturally from my God-given purpose to reach millions of people with Truth. Some of the decisions have been tough, but absolutely necessary if I intended to fulfill what I believe God has called me to do. In reality, without a purpose, a person is similar to a boat sailing in a sea with no rudder. It just goes with the wind, not towards any intended target. Everyone has a choice on what to do with his or her life, but as for me, I intend to follow my purpose to my destiny. The LIFE Business reaching millions of people is my destiny and I intend to fulfill my destiny one family or one person at a time.
Sincerely,
Hannibal's Pledge
Hamilcar Barca, commander of the Carthaginian forces defeated in the first Punic war vowed to have his revenge. Having lost Sicily, Corsica, and Sardinia, Hamilcar was assigned to defend the Carthaginian territories of Spain, accompanied by his nine-year old son, Hannibal. Vowing revenge, Hamilcar brought his young son to an altar and made him stretch his hand over the fresh sacrifice to pledge undying hatred and enmity against the Romans. Indeed, this was an oath that Hannibal fulfilled to his last dying breath.
Crossing the Alps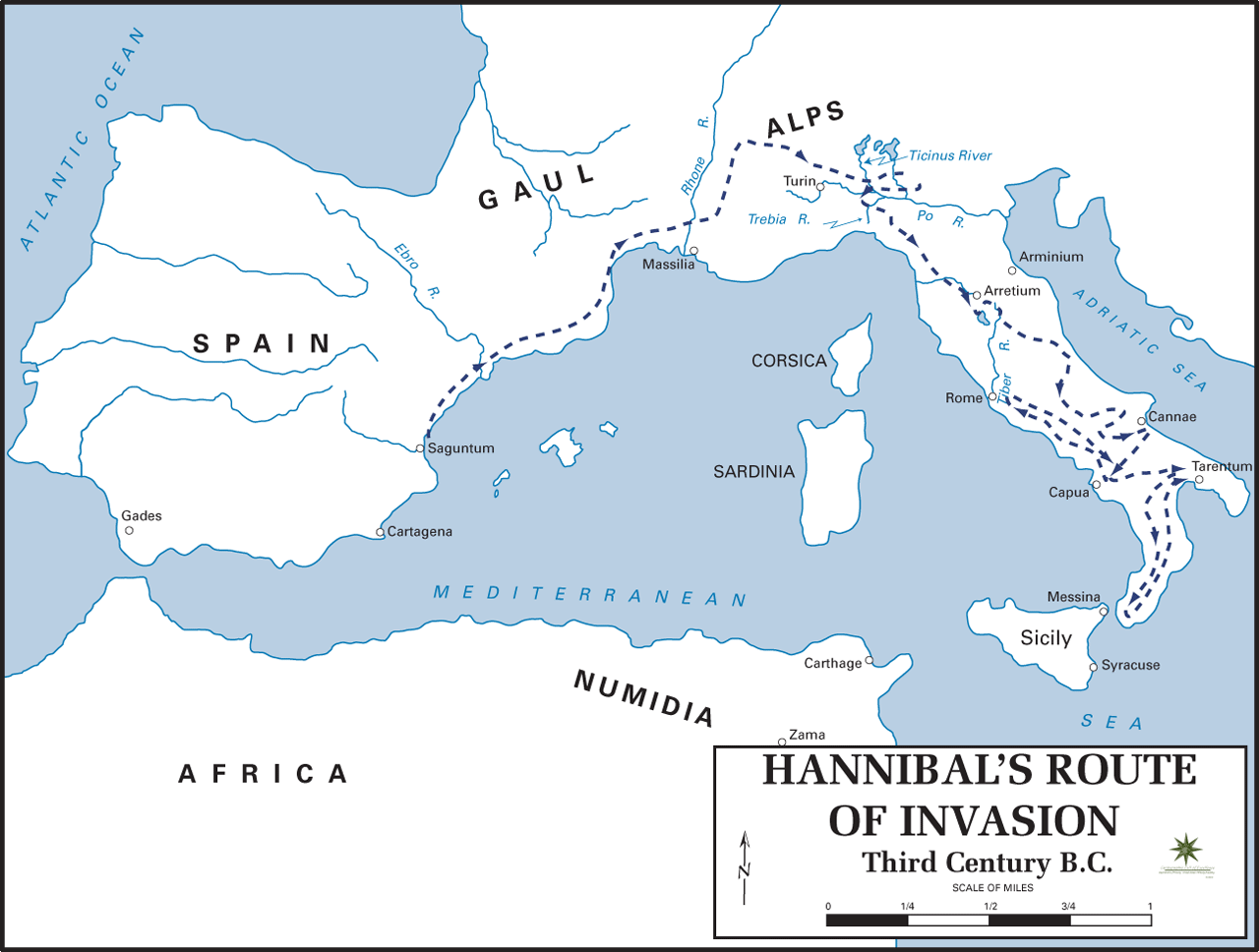 Hannibal's father died when he was 18 years old. By 26, Hannibal had succeeded his brother-in-law as leader and commander of the Carthaginian forces in Spain. Exercising all his mental and physical talents to fulfill the oath promised to his dad, Hannibal built a powerful army and developed a daring plan to strike a blow at his hated Romans rivals. As part of his total strategy, Hannibal befriended the Gallic tribes that controlled the passes over the Alps. Soon afterwards, he besieged the city of Saguntum in northern Spain. Despite being 100 miles south of the border between Carthaginian and Roman territory, Saguntum was considered an ally of Rome, thus initiating the Second Punic War. Rome didn't fear anyone, especially since they controlled the sea lanes and knew Hannibal could never transport an army of the needed size across the Mediterranean Sea without risk of annihilation by the stronger Roman fleets.
Consequently, Hannibal moved his troops, consisting of nearly 50,000 men and around 40 elephants, north into France and eventually over the passes of the Alps into Italy. No one had dared such an audacious plan before and it caught the Romans completely by surprise. Leaving his brother Hasdrubal to defend Spain, Hannibal's expected to raise further troops from disgruntle allies of the mighty Roman empire. In concept it was a brilliant plan; however in execution many of his men and nearly all of his elephants died on the journey. In fact, Hannibal, exhausted and feverish, lost sight in one of his eyes on the journey. Remarkably, only 20,000 of the original 50,000 departing men arrived on Italian soil, yet Hannibal refused to yield to circumstances. He was determined and to fulfill his vow by inspiring his men with thoughts of taking down the growing Roman Empire.
Battles in Italy
Hannibal's army rallied to his call and he defeated the first Roman army sent against him at the River Trebia. Enticing the Romans into crossing a waist-deep frigid stream, Hannibal's men defeated the exhausted Romans. The next battle, at a narrow pass between Lake Tasimene and the mountains, Hannibal's strategy of hiding his calvary until it fell upon the Roman rearguard, pinched the Romans and ended in another victory for Hannibal's outnumbered troops. After various delaying tactics by the Roman general Fabius, the Romans decided on a final all-out offensive to rid themselves of the pesky invader. At Cannae, Hannibal's strategy achieved, not just a victory in battle, but everlasting fame as one of the classic maneuvers in military history. Using superior discipline, Hannibal's middle gave ground while his wings swept forward, leaving the Roman's surrounded as they surged into the middle gap and the wings closed in upon them. The massacre of tens of thousands of Romans left Hannibal in charge of the Italian countryside and no Roman army ever fought a pitched battle against Hannibal again on the Italian mainland.
Hannibal's Recall
Amazingly, however, Rome still refused to surrender. Hannibal, although victorious on the battlefield, did not feel he could conquer the city of Rome with its strong fortifications. Consequently, the Fabian Roman tactics of attrition warfare led to the demoralization of morale and men in the Carthaginian army. Hannibal had counted upon reinforcements from discontented allies; however, most of the allies remained loyal to Rome rather than join in rebellion. Between Rome's naval supremacy and the inherent dangers of the mountain passes, Hannibal reinforcements were few, while Rome continued to rebuild its army to defeat the invader. Finally, to break the deadlock, Scipio, in a brilliant maneuver, attacked the Carthaginians in Africa, thus forcing the recall of Hannibal's army. Strikingly, the Romans had survived the greatest threat to their empire until its eventual collapse 600 years later.
In 202 BC, at Zama, in south-west Carthage, Hannibal was finally defeated. Rome's victory over Carthage ensured Roman supremacy in the Mediterranean waters. Shortly afterwards, Hannibal, upon learning his enemies in Carthage intended to turn him over to Rome, went to exile where he eventually killed himself rather than surrender to Roman forces intent upon his capture. A sad ending to one of the best generals and leaders of all-time.
Hannibal's somber story makes one reflect upon the importance the driving force in one's life. His vow led to his destiny – a series of battles against Rome – leading ultimately to his exile and death. Hannibal was brave, courageous, and focused in the pursuit of his purpose, but the question is: was it a worthy purpose?  Invariably, one's purpose determines one's destiny. Consequently, it's important to determine what one is called to do and then do it with all one's might. Hannibal, because of his passion to pursue his purpose, nearly defeated the mighty Roman empire. Knowing the importance of purpose in one's life, perhaps its worth investing the time to detect the God-given purpose inside and resolve to courageously pursue it for the Glory of God.
32 Responses to "Hannibal Barca: Purpose Determines Destiny"
Sorry, the comment form is closed at this time.