King Pyrrhus & the Rise of the Romans
Posted by Orrin Woodward on December 31, 2012
Here is the beginning of my study of the Roman's. King Pyrrhus  was the first to learn that the Roman city-state was different than its Greek forerunners. In a similar fashion, the LIFE Business is different than its community building forerunners. Offering a product that every single person in the world needs, regardless of whether they realize it or not, the LIFE Business is quickly becoming the highest quality and best value leadership answer for corporations, churches, communities, and individuals. 2013 is fast approaching, be sure to make this your personal best year. This can start the moment you choose to turn off the TV set, turn on the CD player and press play. Here is the story of King Pyrrhus and the Romans.
Sincerely,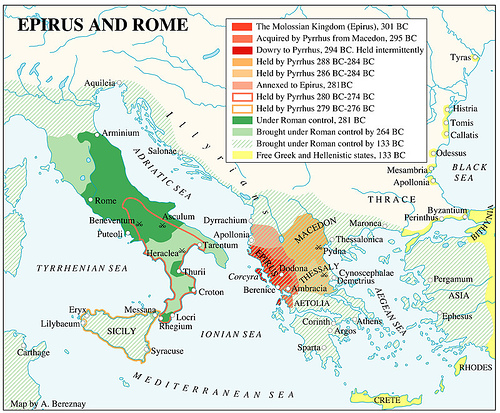 King Pyrrhus & the Dream of Empire
King Pyrrhus dreamed of conquering the known world. Indeed he had the ability, as he is considered one of the three greatest military commanders of the ancient world along with Alexander the Great and Hannibal. Consequently, when he received a request from Tarentum (a Greek city in Italy), to help defend the Greek cities from the advancing Romans, he happily complied, believing his moment of destiny had arrived. Cineas, however, Pyrrhus friend and wisdom-filled counselor, who had mentored under the Greek orator Demosthenes, responded stoically, seeking to comprehend the king's thirst for empire. According to Plutarch, Cineas reflected:
"The Romans, O Pyrrhus, are said to be good fighters, and to be rulers of many warlike nations; if, then, Heaven should permit us to conquer these men, how should we use our victory?" And Pyrrhus said: "Thy question, O Cineas, really needs no answer; the Romans once conquered, there is neither barbarian nor Greek city there which is a match for us, but we shall at once possess all Italy, the great size and richness and importance of which no man should know better than thyself." After a little pause, then, Cineas said: "And after taking Italy, O King, what are we to do?" And Pyrrhus, not yet perceiving his intention, replied: "Sicily is near, and holds out her hands to us, an island abounding in wealth and men, and very easy to capture, for all is faction there, her cities have no government, and demagogues are rampant now that Agathocles is gone." "What thou sayest," replied Cineas, "is probably true; but will our expedition stop with the taking of Sicily?" "Heaven grant us," said Pyrrhus, "victory and success so far; and we will make these contests but the preliminaries of great enterprises. For who could keep his hands off Libya, or Carthage, when that city got within his reach, a city which Agathocles, slipping stealthily out of Syracuse and crossing the sea with a few ships, narrowly missed taking? And when we have become masters here, no one of the enemies who now treat us with scorn will offer further resistance; there is no need of saying that." "None whatever," said Cineas, "for it is plain that with so great a power we shall be able to recover Macedonia and rule Greece securely. But when we have got everything subject to us, what are we going to do?" Then Pyrrhus smiled upon him and said: "We shall be much at ease, and we'll drink bumpers, my good man, every day, and we'll gladden one another's hearts with confidential talks." And now that Cineas had brought Pyrrhus to this point in the argument, he said: "Then what stands in our way now if we want to drink bumpers and while away the time with one another? Surely this privilege is ours already, and we have at hand, without taking any trouble, those things to which we hope to attain by bloodshed and great toils and perils, after doing much harm to others and suffering much ourselves."
Plunder over Peace – Bastiat's Law
The reasoning of Cineas, although accurate, did not convert Pyrrhus to peace. Instead, it merely troubled him by pointing out the great happiness he was sacrificing to pursue objectives that could only result in enduring conflict. Bastiat's Law, in other words, was so deeply embedded within the would-be conquerer, that renouncing his plans for war and plunder wasn't feasible, despite believing Cineas had spoken truth. Interestingly, even though war and plunder has produced the same bitter fruit since the beginning of recorded history, few seem to learn from this lesson. As a result, the Five Laws of Decline has tempted each generation of leaders to plunder his neighbors for personal gain, ruining the peace and prosperity of all.
To add insult to Pyrrhus's perceived injury, Latin Italy, despite the Roman's suffering defeats in several contested battles and Pyrrhus marching into Latium (40 miles from Rome), refused to abandon Rome's cause. They remained loyal to the Romans because the Romans had not plundered the allies, but instead had treated them as equals with full rights within Latium. Consequently, the peace offer delivered to the Senate by the Pyrrhus's confidante Cineas was rejected, mainly through the resolve of the blind Appius Claudius, who reminded the Romans that they had never treated with an enemy on their soil. Inspired, the Romans refused further negotiations and nobly returned the 2,000 Roman prisoners that Pyrrhus had released in anticipation of an amicable settlement. Cineas, in awe at the nobility and bravery of the Romans and its allies, returned to Pyrrhus, declaring that the Roman senate was an assembly of kings. Indeed, the Roman senate's treatment of defeated cities, forming alliances, not subjects, was a huge competitive advantage of Rome over its various enemies. Historian Tenney Frank explains:
The liberal behavior toward subject states was one of Rome's first contributions to civilization and marks a great forward step in the history of government. We need not assume that this liberalism was based on sentiment or emotion. It was rather due to wise insight into human nature. The Romans somehow learned that subjects can readily be ruled only by fair treatment. It was the example set by these great legislators that made Rome the first city-state capable of building an enduring empire, and it is a pity that we do not know their names.
Rome, Allies, & Pyrrhic Victories
Because the Romans had not plundered their allies, they remained, for the most part, loyal during the crucial early wars with the Etruscans, Greeks, and Carthaginians. In a word, the Romans just treatment of its allies kept the five laws of decline in check during the formative period of the Roman city-state and allowed them to defeat enemies with greater wealth and resources, but less trust amongst its allies. Evidently, honesty, integrity, and character are essential for building trust, that in the long-run, is the key difference maker. King Pyrrhus, after another hard fought victory over the Romans replied to one of his men when he announced they were victorious over the Romans, "one more such victory would utterly undo him." Pyrrhus realized his key commanders and soldiers were either wounded or dead and would be difficult, if not impossible, to replace. In contrast, Rome and its allies, because of the trust built within the alliance, had a practically unlimited supply of talented commanders and men to replace their losses. In other words, even in defeat, the Romans were gaining victory. Pyrrhus predicament is what led to the term "Pyrrhic victory," defined as someone who wins a victory, but the price paid is so great that it negates any sense of achievement or profit. Eventually, King Pyrrhus exited Italy and returned to Epirus, realizing he could not defeat the unified Romans with the constantly bickering and dis-unified Greek cities of Italy.
25 Responses to "King Pyrrhus & the Rise of the Romans"
Sorry, the comment form is closed at this time.