Two Surefire Ways to Fail Financially
Posted by Orrin Woodward on March 16, 2017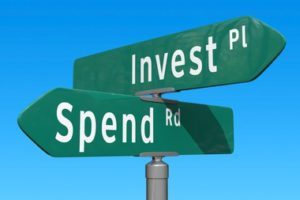 There are two surefire methods to fail financially elaborated upon within the Financial Fitness Program, affectionately called the Green Box.  The first is to spend when one should be saving and the second is to save when one should be investing. The two key principles of financial success (Defense and Offense) are captured within that sentence.  Nonetheless, while financial success may sound simple, it certainly isn't easy, especially when one studies the financial results of the average household. Why, in other words, if the principles to financial success can be taught within one sentence, are so many people failing financially? This question quickly leads a person down the Financial Matrix rabbit hole and how the elites have purposefully dumbed-down the masses in order to control them through financial illiteracy, which, as the Bible states, makes the borrower slave to the lender.
Whereas some may see my last sentence as a ticket to play the victim card, this is the last thing I have in mind. Rather, I believe society, thanks to the Green Box, has the greatest opportunity to fight back against the elites that we've ever had, not with sit ins, walk outs or violence, but instead through shining the Light of education, encouragement, and execution to live proper financial principles. Sure, the financial elites have the right to create money out of thin air and loan it to people, who must then work a lifetimes to repay it, and this is highly egregious – but moaning and complaining about it will get us nowhere. In contrast, education, encouragement, and execution of the winning financial principles can take a person anywhere he wants to go. The real question is which path the readers will take when confronted with the truth of the Financial Matrix? For those choosing to take the path of education, it's time to start the lesson.
I'm not going to delve too far into the specifics of spending when you should be saving because anyone reading the first several chapters of Financial Fitness will quickly grasp the principles. Still, knowing the principles does not create change until one applies them. This is where the Green Box community plays such an impactful part because like-minded people, who associate together, help to hold one another accountable to apply the principles they profess to know. The community, in essence, helps a person turn his emotions, from the opponent working against the financial plan, into an ally working with him to achieve his financial goals and dreams. Remember, advertisers are paid millions to turn the elephant mind (subconscious) against the ant (conscious) one, causing a mental civil war where people know the right financial thing to do and yet do the opposite because their emotions overcome their logic. Being a logical engineer, I was stunned when I realized my emotions were overcoming my logic! Perhaps, the reader has realized a similar truth. Thankfully, the community aligns desires by recognizing those who follow the financial principles and achieve success. To date, over 10 million dollars in savings has been documented in the last 18 months! In short, use the Green Box to develop your financial plan, plug into the Green Box community to maintain accountability, and align the ant and elephant minds to spend less than one makes.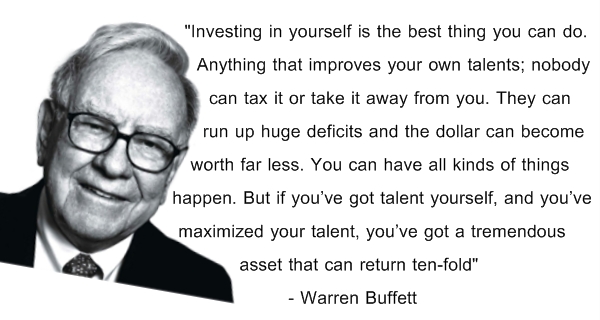 The second principle, paradoxically, emphasizes that even if a person begins spending less than he makes, he still has decades ahead of him to achieve true financial success, unless he also learns to invest in himself. Ironically, this seems to be difficult for many recovering over-spenders. For on one hand they had to develop the discipline to stop spending money on themselves; now, on the other hand, they have to develop the discipline to start investing money in themselves. Indeed, instead of wasteful self-consumptions, leaders make helpful self-investments. Mastery of this concept, needless to say, is essential for people to move from the JOB, the Just Over Broke mindset of the Kiyosaki's E and S quadrants, to the FREE, the Freedom Requires Entrepreneurial Excellence mindset of the B and I quadrants. Buffett emphatically states one must learn more before he can earn more, but many struggle to do so. What is up here? Why, to put it bluntly, will people spend thousands of dollars a year on personal entertainment, but quibble when investing half that amount on personal education?
I speak from personal experience here because I suffered from this irrational condition on my way to developing the FREE mindset. Although I had stopped entertaining myself to death, I still struggled with educating myself to life. Finally, I realized that low self-esteem was the root cause because I did not believe I was worth investing in, having embarrassed myself when attempting to lead in the past. Fortunately, through the power of reading, listening, and associating, I began to understand that if I didn't invest in changing myself, then I would never provide a model for others to inspire them to change. I vowed to turn my former entertainment money into investment money and transformed myself, and subsequently, the Green Box community. I became a student to learn the trim tab (see my book RESOLVED for further information) vital behaviors to succeed. Reflecting back, after having achieved a litany of public achievements in leadership, speaking, and writing, I am astounded that I nearly blew my future by believing lies from my past, for a person too cheap to invest in himself has nothing to enrich others with.
The reader must ask and answer similar questions. Are you spending when you should be saving? If so, then join the Green Box Revolution and start living below one's means. Furthermore, once this is in place, start investing self to improve one's leadership skills. If the reader does the first, but not the second, then he is stuck in no-man's land, no longer having a JOB mindset, but also not having a FREE mindset either, merely stuck in the middle until he invests in his education as much as he used to invest in his entertainment. It's your life; it's your choice; and, it's your result. As for Laurie and I, the best choice we ever made is taking the money we started saving and turning it into an investment into our future, because we realized the results were worth so much more than the investment.
What choices does the reader need to make to live his dreams debt free? Choose wisely.
Sincerely,
78 Responses to "Two Surefire Ways to Fail Financially"
Sorry, the comment form is closed at this time.