George Guzzardo & Financial Matrix Scam
Posted by Orrin Woodward on May 23, 2017
George Guzzardo, and his wife Jill, have exposed the Financial Matrix Scam, understanding the issues at a deeper level than most people. For back in 2007, they purchased a property worth, at the time, nearly $1.5 million dollars, but by mid-2008, in a display of moral courage, the same property was sold for under $450,000! In other words, George and Jill Guzzardo surrendered over a million dollars, not because of any egregious actions on their part, but rather because the Financial Matrix's boom/bust cycle, manufactured through the fraudulent Fractional Reserve Banking (FRB) and Central Banking Fiat money system was at work.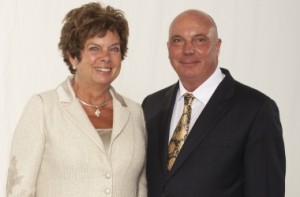 Fortunately, the Guzzardos had plugged into the Green Box Program financial principles for years and despite losing one million dollars to the Financial Matrix, they did not have to declare bankruptcy. The financial offense produced overcame the defensive loss and they are still thriving financially, living in a beautiful and spacious (9,000+ square foot) villa in Tucson, Arizona. Furthermore, now when speaking on stages across the world, their passion to help people escape the Financial Matrix is palpable, knowing first-hand the inner working of the Financial Matrix and how it siphons off hard earned wealth.
Be that as it may, George and Jill Guzzardo are a stitch on stage together, perhaps even a brand unto themselves with their one-of-a-kind bantering back and forth on stage together. To say nothing of the wisdom that pours out of them, which has made these two some of the most popular speakers on Life stages. Laurie and I have personally known the Guzzardos for nearly 25 years and grow closer to them every year that passes. It is difficult to find people more principle-centered, who shine the Light of Christ everywhere they go, than George and Jill Guzzardo. When they started community building, they were in the medical fields (he a Physical Therapist and she a Registered Nurse), but now they are job optional, sharing the message of financial hope through the Financial Fitness Green Box Program.
How did this couple achieve financial results so extraordinary that they could endure a million dollar loss and hardly skip a beat? For one thing, they avoided the two main financial failure-modes – 1) Spend when a person should be saving and 2) Save when a person should be investing. These two principles were applied from day one and the Guzzardos paid off the mortgage on their riverfront property (in Ironwood, Michigan) decades early. For another, they invested in themselves, feeding their minds a steady diet of reading, listening, associating, and acting upon the information to improve skills. Is it any wonder the Guzzardos are filled with wisdom, humor, and joy when one considers they have invested in themselves for nearly 25 years?
I recall meeting George for the first time and him explaining how and why he didn't read. He said he had done enough of that in college and didn't enjoy it. This is humorous today since George is now one of the most consistent readers in all of Life, even authoring a top selling book The Torch of Freedom. His library overflows his office and I believe it is one of the keys to who he is (a strong connector with relatable personality) and what he does (shares wisdom to help people escape the Financial Matrix. Indeed, one of the things I respect so much about this couple is no matter what is happening, good or bad, the Guzzardos always have a great attitude. After all, it would have been easy for the Guzzardos to get bitter when years of hard work was siphoned away by the Financial Matrix; instead, however, the Guzzardos used it to motivate them to serve bigger. This is what makes them so special, namely, the ability to use personal pain to help other's gain, a true model of servant leadership.
In closing, Laurie and I want to personally thank the Guzzardos for their leadership example and publicly honor their commitment to truth and Light in an age of deceit and darkness. If George and Jill have helped the reader on his journey out of the Financial Matrix Scam, please share below.
Sincerely,
28 Responses to "George Guzzardo & Financial Matrix Scam"
Sorry, the comment form is closed at this time.