LIFE Leadership Major
Posted by Orrin Woodward on October 24, 2011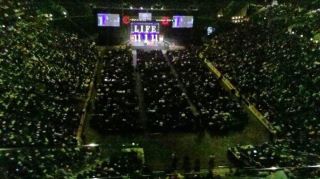 The LIFE Leadership Conference wrapped up on Sunday. With over 18 new RT's, Triples, and Quads, along with a new PC – Chris and Danae Mattis, LIFE Leadership has experienced its best three months in its history.
Not too mention Tim and Amy Marks and Chris and Terri Brady going Quad PC. Wow! Our special guest – Dallin Larsen, Oliver DeMille, and Pastor Stephen Davy knocked it out of the park as well. Has LIFE Leadership ever had a better major? DeMille's talk on freedom received numerous standing ovations and Davy's gospel message should be spread to the entire world. I never knew fleas could have such relevance to the gospel before.
People are ready for change and LIFE Leadership is leading with life changing information in the 8F's.  Stay tuned for thousand of testimonials on how the LIFE Leadership products have made a difference in their lives. Anyone can have an opinion, but those who have learned, applied, and grew from the LIFE Leadership materials have facts. LIFE Leadership is going to change the world one person at a time.
Are you ready to make some changes in your life? Which of the 8F's would you like to improve? See for yourself the LIFE Leadership difference! Sincerely, Orrin Woodward
8 Responses to "LIFE Leadership Major"