Intelligent Design, Evolution, & Molecular Machines
Posted by Orrin Woodward on October 1, 2012
Because of my background as a product/process engineer, the molecular machines found within living cells are fascinating to me. These assemblies aren't just machines metaphorically. Rather, speaking as an engineer who designed electric-motor pumps for nearly a decade, these units are truly micro-machines with functions/features beyond anything currently imaginable within the electric-motor design community.
How is it possible for world-class, patentable designs, which any engineer would be proud to invent, to be labeled as time/chance occurrences? Let's reflect on this. On one hand, the most intelligent, skilled, and knowledgeable engineers in the world cannot recreate the functions/features of these machines using all available knowledge. And yet, on the other hand, the general public is repeatedly indoctrinated with the idea that time and chance alone created these complex machines.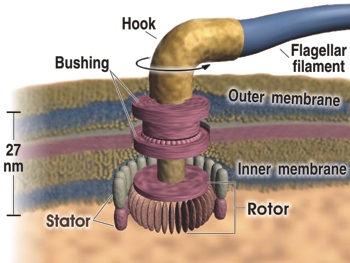 Perhaps, for those not trained in the technical fields, this may be believed because one doesn't understand the leaps of logic made from simple structures to complex machines. However, for an engineer who worked in this field for a decade, it is difficult to swallow some of the conclusions. For instance, one of my four patents improved an electric motor – rotors, stators, and magnets, shafts, bushings, etc. – and yet the machines within the cell blow away the functions/features designed within the patented part. Can you imagine an engineer developing a motor with equivalent functions to these molecular motors and management refusing him a patent because they reject "intelligent design" as a cause prima facie based upon their naturalistic philosophy?
In his landmark book Darwin's Black Box, Dr. Michael Behe describes machines as having "irreducible complexity":
By irreducibly complex I mean a single system composed of several well-matched, interacting parts that contribute to the basic function, wherein the removal of any one of the parts causes the system to effectively cease functioning. An irreducibly complex system cannot be produced directly (that is, by continuously improving the initial function, which continues to work by the same mechanism) by slight, successive modifications of a precursor system, because any precursor to an irreducibly complex system that is missing a part is by definition nonfunctional. An irreducibly complex biological system, if there is such a thing, would be a powerful challenge to Darwinian evolution.
In other words, all the parts of the machine must be in place for the unit to function properly. If any part of the assembly is missing, then the function is not accomplished. Accordingly, the unit would not survive the time/chance model of evolution as Darwin described it. Remarkably, at the cellular level, there are numerous "irreducibly complex" machines that cannot be accounted for within any known evolutionary model hypothesis.
Even so, everything I have just described is actually just the tip of the iceberg. In fact, the most significant aspect of the cell is the unexplainable (by naturalistic means) DNA information code. To build the cell with proper specifications requires an operating code that spells out the sequence of events in its exact order. How big are these operating codes one might ask? Neo-Darwinian Dr. Richard Dawkins states that one bacterial cell contains more information (in the form of specific step-by-step instructions) than the Encyclopedia Britannica. Furthermore, the billionaire super-programmer Bill Gates elaborates, "DNA is like a computer program but far, far more advanced than any software ever created."
Nonetheless, Dawkins, despite conceding, "The machine-code of the genes is uncannily computer-like," unabashedly rejects a programmer to account for the volumes of programming code. I say rejects a programmer, but that's not technically correct anymore. Surprisingly, in an interview with Ben Stein for his movie Expelled, Dr. Dawkins, after a caustic attack on God, was all too quick to postulate on the viability of "aliens from another planet" designing life on earth. It appears that philosophical naturalists and scientific evolutionists don't have an inherent problem with design and programming as such; otherwise, they would reject all designers and programmers. Instead, it seems that design is acceptable as long as it isn't "The Programmer" called God. Dawkins, in other words, doesn't reject design or designers; he just inherently rejects God. Evidently, in this instance, it isn't data, but dogma driving his conclusions.

At any rate, the information code and irreducible complexity, even after decades of time, are still unexplained phenomena within the evolutionary paradigm. In my opinion, the specific programmed information within the cell is the single biggest hurdle for an evolutionary world-view. For example, the complex protein synthesis operation is coordinated by a blueprint inscribed in the four-letter DNA chemical alphabet, which is then translated into the twenty-letter alphabet of the proteins. Just this protein synthesis process alone is more complicated code than the writing of this blog with its twenty-six letter code you are reading.
Simply stated, books don't write themselves regardless of how much time or chance is provided. In a similar fashion, computer programs, the size of Encyclopedia Britannica, require profounder thought than just a pencil-whipped time/chance explanation. Increasingly, the scientific community is waking up to the fact that Darwinism has huge problems and is without a viable hypothesis to account for information and programming. Without answers, these massive fissures will eventually lead to modern evolutionary theory, as we know it, collapsing on its own unsupported foundations.
Biblically speaking, this is nothing new. When a man denies God, it's not from the data, but from dogma. The scientific research continues to reveal overwhelming evidence of design and programming. Nevertheless, the naturalist world view rejects God outright; therefore, regardless of what the data indicates, if it points to intelligent design, then it must be rejected as a matter of faith. Astonishingly, it's not that they don't see where the data leads them, but rather, they reject the data for taking them where they didn't want to go. The Apostle Paul explains this phenomena in Romans 1:18-23 (ESV):
For the wrath of God is revealed from heaven against all ungodliness and unrighteousness of men, who by their unrighteousness suppress the truth. For what can be known about God is plain to them, because God has shown it to them. For his invisible attributes, namely, his eternal power and divine nature, have been clearly perceived, ever since the creation of the world, in the things that have been made. So they are without excuse. For although they knew God, they did not honor him as God or give thanks to him, but they became futile in their thinking, and their foolish hearts were darkened. Claiming to be wise, they became fools, and exchanged the glory of the immortal God for images resembling mortal man and birds and animals and creeping things.
Hence, scientists, like the rest of mankind in their fallen condition, deny the truth set before them. Science, however, by its very definition, is no longer science when it accepts dogma over data. Consequently, what we are watching unfold in the intelligent design/evolution controversy is less about science and more about philosophical world views. All of us can benefit by learning from all sides of the controversy. Science, in order to be science, must allow the data to speak for itself, but the data overwhelmingly points to design/programming, which leaves naturalists in a moral quandary. Either they reject their world view and continue to be scientists, or they reject science and continue to be the priest and prophets of naturalism.
Let me close with one more thought. The Human Genome Project, completed in 2000, described the hereditary information in the genome of DNA as the "book of life." Watson and Crick discovered that DNA stores text, but not until Francis Collins and his Human Genome team, did scientists begin to decipher its full message. The resulting revolution has catapulted biology into the information age. Again, this is nothing new for a Christian. In fact, the Apostle John started his Gospel with the importance of the Word. What if this Word was a program for life within each living creature? We know every living cell is organized around information-driven machines. Let's review John's words on the Word in John 1:1-4 (ESV) with our new understanding from science.
In the beginning was the Word, and the Word was with God, and the Word was God. He was in the beginning with God. All things were made through him, and without him was not any thing made that was made. In him was life, and the life was the light of men. The light shines in the darkness, and the darkness has not overcome it.
As a Christian, I am not afraid to seek truth wherever it may lead. How about you? Are you on a quest for truth, allowing the data to lead where it may? Or, are you on a quest for dogma, repeating slogans learned in school regardless of its relevance or accuracy today? Living as a human being today demands one to think through what one has learned, separating fact from fiction. I respect the scientists and their research on all sides of this issue. They are amazingly hardworking and intelligent; however, I refuse to swallow anyone's paradigms without thinking through the ramifications.
In the same way, whether one agrees with everything I wrote is not the point. The key is that you start thinking about what you "know."  Indeed, it's not as important that we all think the same, but it is desperately important today that we all start to think.
Sincerely,
54 Responses to "Intelligent Design, Evolution, & Molecular Machines"
Sorry, the comment form is closed at this time.