Is LIFE Leadership a Network Marketing Scam?
Posted by Orrin Woodward on October 27, 2014
LIFE Leadership Releases The Leadership Train
The Leadership Train is officially released and available for purchase. I wrote my new book to ask and answer the key questions people ask when evaluating whether Network Marketing is a viable option for them. In reality, Network Marketing is not for everyone. Because it is a performance based system that cares little for one's credentials, leadership creators love it while management credentialist do not.
For anyone aspiring to learn leadership, I believe Network Marketing is the best option. In Chris Brady and my NY Times bestseller Launching a Leadership Revolution, we stated the three foundational principles of all potential leaders –  hungry, hone-able, and honorable.
Is Network Marketing and LIFE Leadership a Scam?
For people with these foundational traits, The Leadership Train answers the key questions people need to know in order to determine if Network Marketing is for them:
1. Is Network Marketing a legitimate business? For if Network Marketing is an illegal pyramid scheme, it may not be high on a leaders list of things to do. 🙂
2. Is Network Marketing worthy of my time and effort? If the results worth the effort then I should really take a closer look.
3. If I decide to build Network Marketing, what is the most effective way to do so? Is there a training system to help me?
4. How does a leadership mentor help a person succeed in Network Marketing? Without mentoring, a person cannot learn from the experiences of others with proven results.
5. Besides the obvious compensation component, are there other aspects of Network Marketing that draw top performers into the profession? More people are involved with Network Marketing today for the association with an encouraging community than even the compensation aspect.
The Truth About LIFE Leadership and Network Marketing
These and many more questions are taught in this fictional story. Finally, one can learn about Network Marketing while one is entertained. Anyone seriously looking for the truth about LIFE Leadership and Network Marketing is only several hours away from know the facts.
Early on in this profession I learned that story sell and facts tell. I explain why I started LIFE Leadership to help the leadership culture build in ALL Network Marketing companies as well as corporations around the world. LIFE Leadership teaches leaders how to build leadership cultures no matter what company they currently work with or for. It's time to get on the Leadership Train and launch a leadership revolution around the world.
Sincerely,
Orrin Woodward: Co-Founder LIFE Leadership
Endorsements for The Leadership Train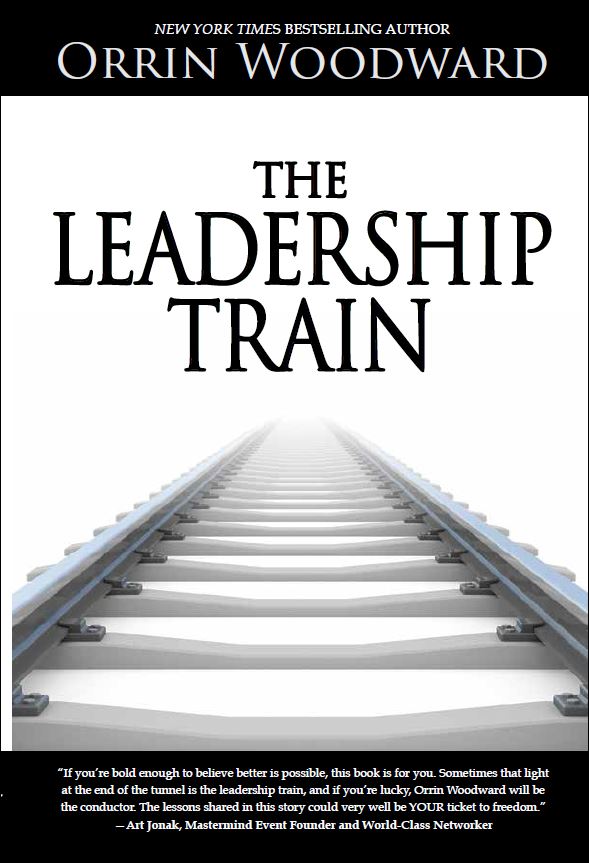 "Having worked in network marketing for nearly two decades, I have had the privilege and blessing of working with the industry's top field leaders, executives, and business owners, and I have 'seen it all,' as they say. I really believe that only Orrin Woodward could have written The Leadership Train. There is no more competent researcher or practitioner in the industry. This beautifully crafted and informative allegory will take you on a journey that will challenge every belief or misconception you may have had about network marketing as well as about yourself. Orrin lays it all out—the good, the bad, and the ugly—and shows us how he and the other founders of LIFE Leadership have eliminated the issues that have plagued the network marketing industry for years, essentially creating a whole new industry in which anyone who is hungry, honorable, and teachable can have success. Homerun!"
—Tim Marks, Bestselling Author of Voyage of a Viking and Confidence of a Champion
"The world is made a better place each and every ordinary day by the millions of unsung heroes who serve others, sell and deliver great value to customers, and build enterprises that provide jobs, grow people, and secure families. The Leadership Train captures the heart and soul of this high and holy calling and will ignite a fire of unquenchable passion within the reader's heart!"
—John Stahl-Wert, International Bestselling Author of The Serving Leader and Ten Thousand Horses
"No one builds a networking business like Orrin Woodward. In this marvelously entertaining and easy to read book, he shares the thinking behind his extraordinary success. This should be required reading for everyone in the profession!"
—Chris Brady, New York Times Bestselling Author of Launching a Leadership Revolution
"Hilde, Orrin, and I were waiting at a red light on Friedrichstraße in Berlin, and I asked Orrin, 'Can you tell us that thing with trains and cookies and cream again?' We all laughed because we had been messing around with it all day, and that is when we said, 'You need to write that book! It is a profound message that will help millions of direct sellers across the world get the business success they hunger for.' We are so happy the book is ready! We believe it will help our team to the next level. It will be one more 'mandatory Orrin book.' Thank you so much, Orrin, for the impact you have on our life and success."
—Hilde and Ørjan Sæle, Authors and World-Class Networkers
"I had barely started this informative and entertaining book when the next thing I knew, I was finished. Captivating as it is, it's actually a manual on how to build a successful network marketing business. Orrin Woodward is truly a master at his craft, and he provides answers to many questions here. Is there anyone else out there who wants to live a life of fulfillment? Then jump on the leadership train!"
—George Guzzardo, LIFE Coach and Speaker
"Reading The Leadership Train is like being a fly on the wall watching Orrin Woodward do what he does best: develop leaders who make a difference. If even just 10 percent of the people in our profession own this book, we will impact the world in profound ways."
—Dan Hawkins, LIFE Coach and Speaker
"I couldn't stop reading. Orrin Woodward has already proven to be one of the foremost thought leaders of the twenty-first century. Now he reminds us of the age-old adage 'Facts tell, but stories sell.' The Leadership Train is a fun fiction tale that demonstrates exactly what one needs to do to create financial freedom in direct sales, written by one of the greatest networkers in history."
—Ken Dunn, CEO of Next Century Publishing
"Over the years, I have seen the potential of many people go unfulfilled because they couldn't frame their own doubts and fears and then overcome them. Orrin Woodward has brilliantly laid out the emotions that so many people deal with as they try to get traction and succeed and then systematically shown readers how to grow as a leader and win. Orrin has always stood above all others in understanding not just the science but also the art of building a community, and in this book, he has combined that wisdom into a clear, heartfelt tale of one man's journey as he builds the LIFE Leadership opportunity."
—Claude Hamilton, Bestselling Author of Toughen Up!
I can't encourage you enough to take the time and read this short story that has actually taken over 14 years to develop. Not only will you learn the principles, techniques, and concepts to help you make a decision about life and leadership, but it will also teach you how to build a successful Compensated Community. You will not only learn about business success but I predict you will also gather golden nuggets that you can immediately apply to make your life better. 
—Bill Lewis – LIFE Coach and Speaker
13 Responses to "Is LIFE Leadership a Network Marketing Scam?"
Sorry, the comment form is closed at this time.