The Financial Fitness Program: Dreams and Debt
Posted by Orrin Woodward on July 3, 2017
The Financial Matrix, a system of control through debt and dreams to enslave people, is growing larger every day. In fact, the Washington Post recently reported on a study by the International Monetary Fund (IMF) that revealed the debts of governments, households and non-financial businesses had reached a record $152 trillion in 2015, an amount much higher than before the 2008-2009 financial crisis. What is going on?
Perhaps a comparison to nature illustrates the principles at work, for parasites never stop consuming the host, even if by killing the host they kill themselves. The Financial Matrix, similarly, is a parasite attached to the world's monetary system, siphoning off massive profits through massive power, which results in hundreds of millions of fully capable people unable to support themselves. How is this possible in the wealthiest societies in recorded history? I won't elaborate too much on why politicians avoid the root cause of our woes, but the old aphorism, "Don't bite the hand that feeds you," sums it up nicely. The Financial Matrix is the predictable Biblical outcome when control is taken away from the free market and placed into fallen human beings direction.  Naturally, the money controllers, with access to practically unlimited funds, purchased the Mass Media, and these two combined to purchase politicians obedient to their whims to run the Military State. This is the  Money, Media, and Military  structure of the Financial Matrix that I have discussed previously. 
Few politicians seem to speak out upon this injustice. This isn't too surprising when one considers that politicians who speak too harshly about the Financial Matrix system are swept under the rug.  Through a process of eliminating funding (politicians win or lose on marketing), launching negative media campaigns (politicians are ineffective without popular support), and grooming potential competitors (those who puppet the company line), the Financial Matrix ensures obedience to its plan. Most politicians, because they seek public approval, have concluded that knowing too much about the Financial Matrix can be hazardous to their careers, confirming Upton Sinclair's insight, "It is difficult to get a man to understand something when his salary depends on his not understanding it." 🙂 Needless to say, the main reason the Financial Matrix is not mainstream news is because mainstream news is owned by the Financial Matrix.
I said all of this to drive a vital point home – each person must develop a plan to defend himself against the Financial Matrix forces and not rely on the compromised State, Media, and Educational systems. Indeed, each family is on their own until they  hear about the Green Box Revolution, a community of other like-minded people who are tired of surrendering to the Financial Matrix. In reality, there are only four distinct choices a person can make when confronted with the Financial Matrix. Unfortunately, most people, however, are not making the right choices. For instance, in the developed world, the wealthiest nations in recorded history, just above 50% of the people, when their expenses are deducted from their assets, have no net worth, not even a penny's worth!  I cannot emphasize this point enough, for half of the people in the developed world, a world that created ten times the wealth of any other civilization, still has half of its people with ZERO net wealth – dead broke. How did they get here? The fault, as Shakespeare so aptly stated, "is not in our stars, but in ourselves."
To be sure, people did not plan to drown in debt, but in an effort to live their dreams, most have become expendable pawns on the Financial Matrix chess board. They simply followed the messaging learned in advertisements, schools, and financial institutions, surrendering freedom for life within the Financial Matrix, a matrix set up to fool people into believing they must choose between dreams and debt. The Tightwad Quadrant, for example, surrenders his dreams to live in debt freedom. Is it any wonder so many people are trapped in the Financial Matrix when nearly every financial pundit teaches financial budgeting, which is simply surrendering dreams to hopefully live debt free someday. How absurd, especially when one considers it will take decades for most people to achieve this, if they can stay disciplined for the entire duration, before they will live in debt freedom. 
The Status Quadrant, in contrast, chooses dream freedom by surrendering to debt. They believe they seek to live their dreams by living in debt, hoping that with time, they can pay off their debts and still have their dreams. However, adding debt for dreams is like playing Russian Roulette financially, for every time the debt trigger is pulled, one risk losing everything. The bankruptcy statistics are alarming, to put it mildly, and with the bankruptcy, the once successful person slides into the Broke Quadrant. Both quadrants, in a sense, are half-right, knowing they must work and plan to achieve results, but anything that involves surrender is not part of freedom. In other words, asking a person to either surrender to debt or surrender their dreams is a bogus question, the false dichotomy between the two setting a person up for financial failure. 
If a person is going to work and plan anyway, why not work and plan for Financial Freedom, enjoying both dream and debt freedom. "No surrender" is the mantra for the Financially Free Quadrant. Whereas the 50% in the Broke Quadrant get the worst deal (surrendered to debt and surrendered their dreams), the Tightwad and Status Quadrants are both sub-optimized as well since they do not enjoy Dream and Debt Freedom. Thankfully, half of solving any challenge is accurately defining it and the Financial Matrix wins so much because few properly define the challenge, the challenge of living dream while remaining debt free.  This is why sharing the Financial Matrix Quadrants is so important, for it give a person an opportunity to identify the problem (trapped in the Financial Matrix) and a choice on how he want to respond to it.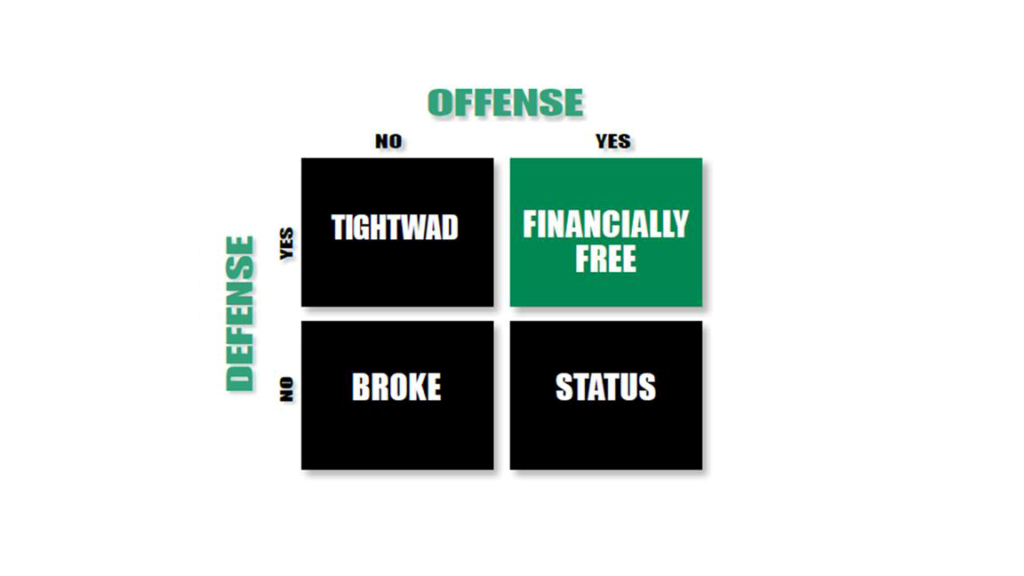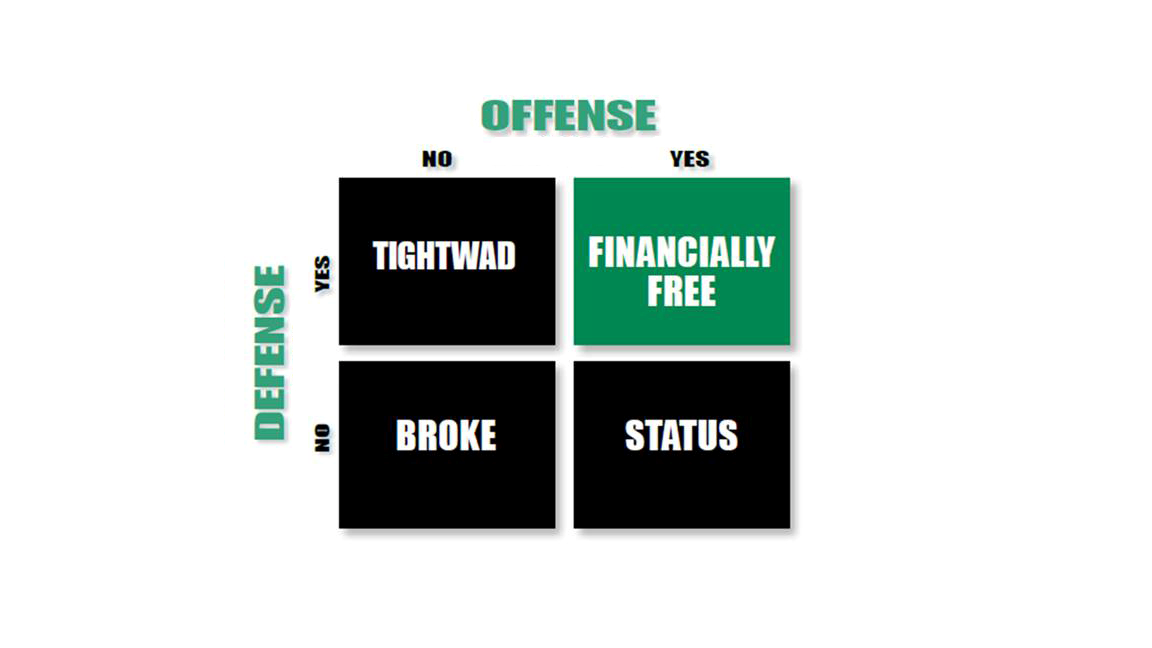 This is where the Financially Free Quadrant comes in, the only quadrant that asks and answers a better question – how do I live my dreams without debt? Unbelievably, while 50% of the people live in the Broke Quadrant and 99% live in one of the sub-optimized ones, only 1% live in the Financially Free Quadrant. If this doesn't wake a person up from the debt-induced dream state, I don't know what will. We live in a capitalist world, where money is the medium for nearly all transactions, and the lack of Financial Literacy robs people of FREEDOM. I may not have the time, money, or resources to become a political leader and take on the Financial Matrix directly, but I can help individuals, who are willing to learn Financial Literacy using the Financial Fitness Program, escape the Financial Matrix.
Like the young boy, mocked by the old man for throwing starfish dying on the beach back into the ocean, who when told he couldn't possibly save them all, merely threw another one it into the ocean and said, "I saved that one." Likewise, with billions of people enslaved in debt, I may not be able to save them all, but I can save the next one. Furthermore, by creating a company that message Green Box financial truths, the reader, too, can save the next one.  Who knows how far God can take this message of hope to help people live in Dream and Debt Freedom?
On a personal note, Laurie and I recently returned from our yearly European vacation, a vacation we once only dreamed about when trapped in the Financial Matrix. We toured Edinburgh and other places in Scotland while celebrating our 25th wedding anniversary. Interestingly, one of the places we visited was Stirling Castle, where William Wallace fought for Scottish liberty against English oppression. Hearing the tour guide describe the battle scene was inspirational, for the Scottish were outnumbered 3 to 1, but had a reason to fight despite the odds against them.  In the movie, Braveheart, William Wallace said a line people should ponder, "Aye, fight and you may die. Run and you'll live — at least a while. And, dying in your beds many years from now, would you be willing to trade all the days from this day to that for one chance, just one chance, to come back here and tell our enemies that they may take our lives, but they'll never take our freedom!?!" 
I watched this movie shortly after I launched my journey to personal journey to freedom and it affected me greatly. Maybe this July 4th, others will learn the meaning of freedom and learn they do not have to live with the lies and false promises in the Financial Matrix. FREE people can still can live their dreams and do so debt free. Perhaps the reader, while celebrating July 4th Independence Day, will reflect upon what life would be like with real independence without dream or debt bondage. If Laurie and I, along with thousands of others, have changed our financial destinies, so can you. Like William Wallace, I don't promise easy, but I do promise worth it. Dying in your beds many years from now, would you be willing to trade a few years, years that go by so quickly anyway, for that one chance, that one chance to be part of something special, to escape the Financial Matrix and lead the Green Box Revolution!?!
Sincerely,
33 Responses to "The Financial Fitness Program: Dreams and Debt"
Sorry, the comment form is closed at this time.