Vacations, that bizarre ritual, where perfectly sane people invest money to travel away from perfectly good homes to play, plan, and prepare (the 3 P's of proper vacationing), are a vital aspect of the success process. Of course, as is true of almost everything in life, vacations must be taken in moderation, paid for without borrowing, and balanced by seasons of high-intensity effort and achievement. Perhaps no one has explained this balance any better than Chris Brady, one of the top 200 most influential authors in the world, who, in his classic book, A Month in Italy, outlined how to enjoy the "sharpening the saw" times without regret or guilt.
This is exactly what Laurie and I did during our recent Maui, Hawaii vacation. The Woodwards and Bradys, as we do several times a year, headed to another exotic location to execute the 3 P's. Naturally, the Play part was easy, for we went to Maui to experience some of the best "whale watching" in the world and a whale actually surfaced right next to the boat, an awe-inspiring moment, to say the least! Further, Maui has the "Road to Hana", one of the most beautiful trails to experience God's creation in person. Finally, after a ten year hiatus, the Woodward boys were ready to challenge their dad's Grand Prix title, a race we started in 2001 by racing around the numerous connected pools at the Grand Wailea resort. The play part, in other words, was fully covered and I cannot imagine a vacation that packed more fun into the time allotted.
The plan part of vacation, perhaps the most ignored part in most vacations, was also fulfilled. I cannot explain it, but for some reason when I travel, my mind thinks differently, almost as if the new surroundings create new thoughts. Indeed, some of the best ideas I have ever had were on vacation down times, where I was able to get  quiet time with the Lord to reveal His plans for my life. In Maui, I had the added benefit of masterminding with my amazing wife Laurie, the CEO of LIFE, Chris Brady, and his amazing wife, Terri. Chris and I celebrated LIFE's roaring start in 2017 and planned our next steps. After chatting with Chris over several days, we realized we were on the cusp of doing something others would say is impossible, namely,  "run the table" in 2017.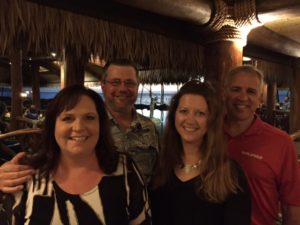 Similar to Aaron Rodgers bold statement that the 4-6 Green Bay Packers could "run the table" and win all their remaining games (which they did) to make the playoffs, we believe LIFE can do similarly in 2017 and double our revenue from 2017 by growing double digits every month. In reality, a 6% growth per month would double the revenue for the year, so by having a double digits growth per month goal, we will easily hit the yearly goal if we hit the monthly goals. Jim Collins explained that goals that take your breath away are BHAGS (Big Hairy Audacious Goals) and doubling a company's total revenue is certainly a BHAG. Nonetheless, the January and February numbers are coming in higher than our monthly goals and the momentum across the organization, thanks to the powerful messaging of the "Green Box," shows no signs of slowing down.  I LOVE big dreams because they have the power to stir the soul! If you are going to have a dream, then make it a big dream, because the worst thing that can happen with small dreams is they come true. J
Finally, a great vacation is a time of preparation. What do we need to do when we return home to crank up our goals and dreams to the next level? I studied my numbers extensively, while sitting out on the patio overlooking the ocean, and I prepared my action steps (who I would mentor, depth calls to do, better messaging to sell more Green Boxes) to pour even more fuel on the fire. Most people fail in life because they were not prepared for the opportunities when they appear. I believe a person's habits will eventually be revealed. If good habits, they will produce great results with time, but if bad habits, they will produce bad results with time. The old boy scout motto "Be Prepared" has never been truer than it is today. Are you preparing for your future success or are you hoping to get lucky? I have found luck to be a false friend (it comes and goes), but habits to be faithful for they do not depart when the going gets tough.
The Maui vacation was a HUGE success because we played, we planned, and we are prepared to RUN THE TABLE in 2017. The real question is the reader's preparation for 2017? What is your financial dream? What is your plan? Are you prepared? A perso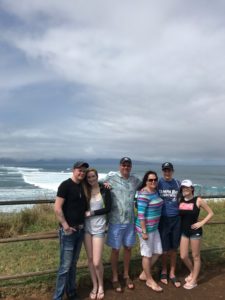 n will never rise higher than his daily habits; therefore, all true change begins with a change in a person's daily habits. I thank God I learned the daily habits of reading, listening, and associating. In fact, while writing this article, I have been listening to Rascal Radio, learning from Chris Brady how to win financially. The bottom line it doesn't matter how high you rise, because you start falling the moment you think you are too big to do the basic habit that made you rise initially. There is no such thing as shortcuts of the shortcuts – read, listen, and associate with those you desire to be like.
Interestingly, this is why so many one-time winners end up failing – they stop doing the daily habits that made them great originally. Winners gather together to fuel hope, while losers gossip together to fuel hate. Which group are you a part of? I choose to win and ONLY associate with winners who want to talk ideas and strategies to bless others. If someone wants to gripe, gossip, or gloat, then they will have to do so without me. Life is full of drama because sinful people refuse to accept responsibility, but winners think differently, rejecting the drama, they focus, instead, upon their dreams by associating with other dreamers. You are responsible because you are the one who must live with the consequences of your choices. 
Sincerely,