Rob and Kenyon Robson speak on stages throughout the world revealing truths on the Financial Matrix Scam. Sure they are knowledgeable, dynamic, and personable speakers, but what the rest of the story on this couple?  That's the purpose of this article because it reveals the inside story on Rob and Kenyon Robson, a couple who have exploded onto the leadership scene in the last few years.
The first big secret about the Robson's is the amount of time and effort it took to get on the same page.  Despite a deep and abiding love for one another, the newlyweds struggled to communicate properly. This led to numerous high-volume discussions with little positive progress for several years. Thankfully, however, Rob and Kenyon Robson are not quitters, and they stayed committed to the relationship while reading, listening, and associating with those who had fruit in the marriage area to help them. One of the biggest blessing couples experience within a community is working models of marriages, which not only survive, but thrive.
The second big secret about the Robson's is their giving hearts. I personally learned how the Robson's, after noticing the many unpaid lunch bill balances, asked to pay in full the late bills for every student that was financially struggling at their children's school. This example one of many examples I could cite as these two are constantly looking for ways to bless others with the financial blessings they have received. Perhaps because Rob and Kenyon struggled financially themselves, knowing the stress and pain associated with missing bills, they have developed a level of empathy extremely in this self-centered age. How can we help seems to be one of the first questions this couple asks in every situation. Furthermore, Kenyon has volunteered endless hours to serve orphaned children without shining light upon her actions and deeds. Simply stated, these two are some of the biggest givers I know.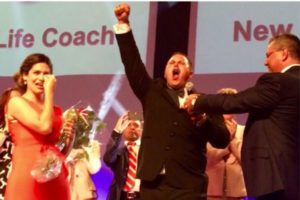 Above all, however, I would say the biggest secret to the Robson's success is they treated their business like a multi-million dollar business before it was even a thousand dollar one. The old saying, "treat a person as he is and he will remain so, but treat a person as he can be, and he will grow into it," has an equivalent saying in business, namely, "treat a business as it is and it will remain so, but treat a business as it can be and it will grow into it." Rob and Kenyon dreamed big, acted big, and now have produced big time results. Through the Green Box Financial Fitness Program, the Robson's have helped thousands move toward Financial Literacy and Financial Freedom. Naturally, the best is still to come as this couple is still reading, listening, associating, and applying the principles to serve even more people.
Today, the Robson's live in a stunning 8,000 plus square-foot mansion in the suburbs of Phoenix, Arizona, with resort-like amenities. Yes, they are living their dreams, but its important to remember that they have done so by helping others escape the Financial Matrix. This is the essence of win-win business. Rob and Kenyon have proven the radical transformation that is possible when a couple acts upon their dreams. If the reader has not heard this couple speak, he is missing something amazing, for the Robson's are some of the real speakers one will ever hear and they reach people like few speakers can.
Please share how Rob and Kenyon have impacted your life below.
Sincerely,
Orrin Woodward