HBRN's Leadership Factory
Posted by Orrin Woodward on September 14, 2012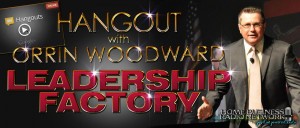 Tony Cannuli, marketing director for Home Business Radio Network (HBRN) and good friend, recently asked me to co-host the Leadership Factory sponsored by HBRN.  After sitting down with Doug Firebaugh, co-founder of HBRN, I realized his philosophy and mine fit together beautifully. I love when people use their talents and business acumen to focus on making a difference. And that is exactly what HBRN does in the marketplace by providing top content from top leaders in the home-based business profession.
The Leadership Factory will focus on interviews with top leaders across the home-based business field, seeking to understand the secrets of their leadership success. Remember, success leaves clues, and the goal of the Leadership Factory is to cull those clues to the surface so that hungry students from across the world can learn from them. Twice a month on Wednesday at 2 pm Eastern Time, Tony and I will be interviewing leaders and learning along with everyone else. The good news is, since we are utilizing Google Hangout, if you miss the live event, you can always watch the YouTube video of the event.
HBRN and the LIFE business have teamed together to provide top-notch leadership thinking to the home-based business profession free of charge! It doesn't get much better than that! 🙂 Here is the first Leadership Factory with our special guest Claude Hamilton. Enjoy.
Sincerely,
32 Responses to "HBRN's Leadership Factory"
Sorry, the comment form is closed at this time.